<- Terug/Back — Volgende/Next ->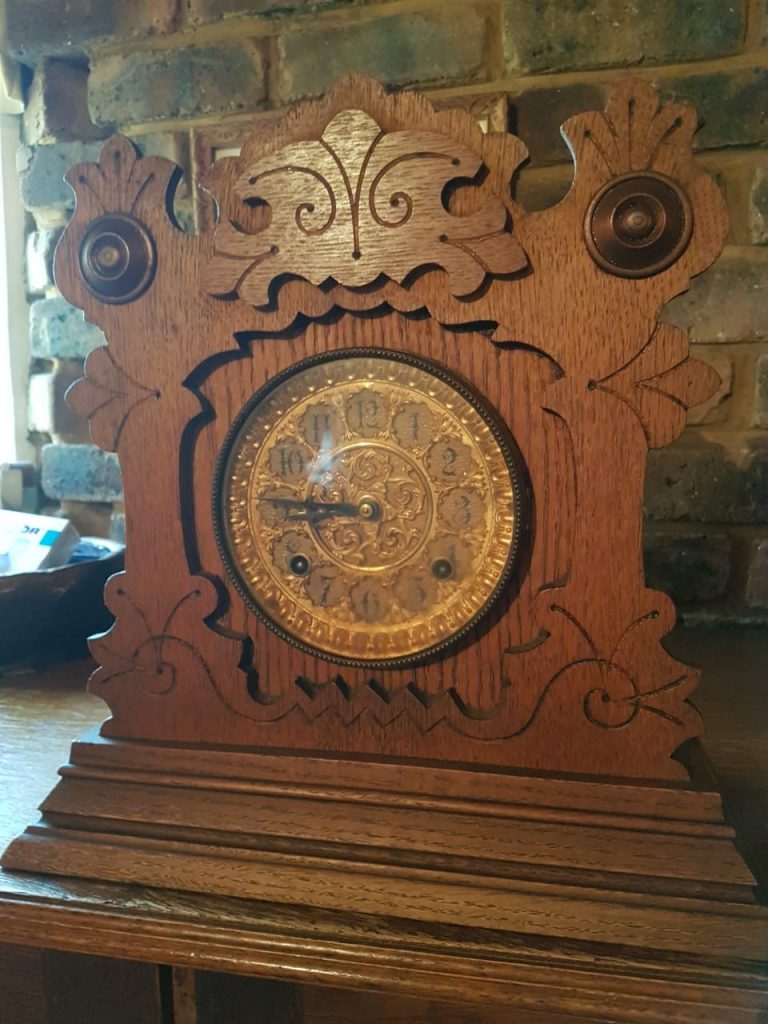 Al die artefakte van hier af verderaan, pas nie in by die Damfontein uitstalling nie, maar is deur ander Henning families beskikbaar gestel vir vertoning as Henning oudhede
Ten tye van die Anglo-Boere-oorlog het die meerderheid Hennings in die Republieke van die Oranje Vrystaat en Zuid-Afrikaansche Republiek gewoon. Met die Britse magte se Verskroeide Aarde beleid gedurende hierdie oorlog, waar bykans alle Boere plaashuise afgebrand is, het weinig Henning oudhede agtergebly.
Ansonia staanhorlosie wat aan Pieter Hendrik Adriaan Henning *7-10-1859 van die plaas La France, Dordrecht behoort het. Die horlosie is skynbaar gedurend 1878 vervaardig en is op La France, Dordrecht gebruik deur verskeie opeenvolgende geslagte. Die huidige eienaar is Eugene Henning *1948 van Pretoria
All the artifacts further on from here, does not fit in with the Damfontein exhibition, but was made available by other Henning families to appear as Henning antiquities
During the Anglo Boer War the majority Hennings lived in the Republics of the Orange Free State and the "Zuid-Afrikaansche Republiek". With the "Scorched Earth Policy " of the British forces during this war, almost all Henning farms were burned down and only a few antiquities were saved.
Ansonia mantelpiece clock which belonged to Pieter Hendrik Adriaan Henning *7-10-1859 of the farm La France, Dordrecht. Apparently the clock was manufactured during 1878 and was used on the farm La France, Dordrecht by several consecutive generations. The present owner being Eugene Henning *1948 of Pretoria