<- Terug/Back — Volgende/Next ->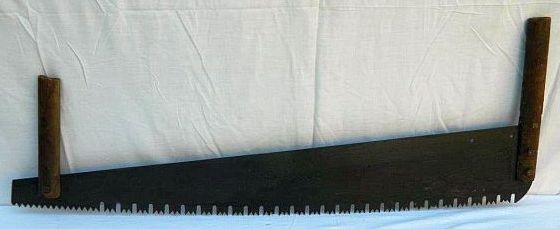 Twee treksae en 'n handsaag wat gedurende die negentiende- en twintigste eeue op die plaas Damfontein, distrik Aliwal-Noord gebruik is.

Die boonste treksaag is die oudste en het volgens oorlewering in 1841 saam met Gert Frans Henning *1785 (b7) op Damfontein aangekom. Die treksae is gebruik om groot bome af te saag. Saag in besit van a2.b7.c8.d8.e3.f6. Sylvia Daisy Grobler (gebore Henning) *29-8-1948
Two jack saws and a hand-saw which were used during the nieteenth- and twentieth centuries on the farm Damfontein, district Aliwal North.

The jack saw at the top is the oldest and came according to legend with Gert Frans Henning *1785 (b7) in 1841 to Damfontein. The jack saws were used to cut off big trees. Owner of this saw: a2.b7.c8.d8.e3.f6. Sylvia daisy Grobler (born Henning) *29-8-1948