<- Terug/Back — Volgende/Next ->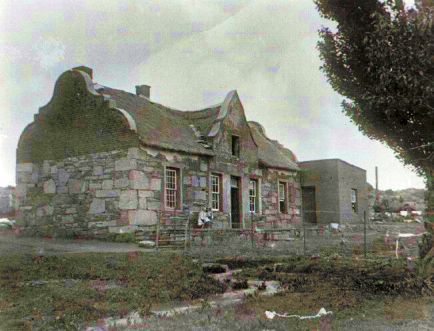 [GDC_row]
[GDC_column size="half"]
HENNING FAMILIE AS TIPIESE NOORD-OOS KAAP TREKBOERE
a2.b7. Gert Frans Henning *1785 baken gedurende 1841 sy plaas af in die Brakrivierwyk en gee dit die naam "Damfontein". Aanvanklik woon hy en sy gesin in hul watent en hy bou 'n tydelike modderhuisie. Gedurende 1850 bou hy en sy gesin hulle eerste permanente opstal op Damfontein.
Die huis word met groot klipblokke en selfgemaakte kleistene gebou. Omdat hulle nie sement het nie, word die klipblokke met gebreide klei gevoeg en die mure daarna met gebreide klei afgepleister.
Foto ± 1910 geneem, toe huis 60jaar oud was. Kinders op stoep, a2.b7.c8.d8.e1. Stanley Henning *1904 en sy suster Enid *1906 (e2).
Buitekamer in 1908 aangebou as slaapkamer vir die seuns. Stoommasjien langs huis het dorsmasjien aangedryf en warmwater in huis verskaf, wanneer nie op plaas gebruik is nie. Kyk gerus Damfontein / Plaaswerf /  Algemeen / Dors van koring waar die masjien op die plaaswerf besig is om te werk
[/GDC_column]
[GDC_column size="half"]
HENNING FAMILY AS TYPICAL NORTH EASTERN CAPE TREKFARMERS
During 1841 a2.b7. Gert Frans Henning *1785 demarcated a piece of land in the Brakriver ward and named his farm "Damfontein". Initially his whole family live in their wagon tent and they erect a house of mud. During 1850 they erect their first permanent homestead on Damfontein.
The house is built with stone blocks and self-made clay bricks. Without cement, the stone blocks are placed using clay and afterwards the walls are plastered with clay.
Photograph ±1910, when the house was ± 60 years old. Children on veranda a2.b7.c8.d8.e1. Stanley Henning *1904 and his sister Enid *1906 (e2).
Outside room added in 1908 as bedroom for boys. Steam engine next to house, when not in use on the farm, supplied warm water for the house. See Damfontein / Farm Yard / General /  Threshing of Wheat where the steam engine is working on the farm yard.
[/GDC_column]
[/GDC_row]