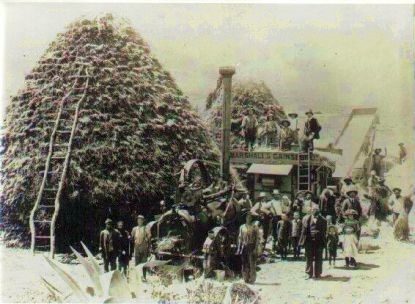 <- Terug/Back — Volgende/Next ->
DORS VAN KORING OP DAMFONTEIN
Olivier Johannes Henning *1869 was een van min boere wat sy eie dorsmasjien gehad het. Op die boonste foto staan hy regs voor (met pak klere en strikdas).
 Die stoomenjin in die voorgrond, wat die dorsmasjien aandryf is in die tyd wat daar nie ander plaaswerk was nie, langs die opstal geparkeer en het dan warmwater aan die huis voorsien. Identiese masjien regs onder. (Terug na opstal)
Op die foto onder met Hopley's Kop en die plaaswerf, kan van die hooimiedens in die voorgrond gesien word.
Die dorsmasjien was met twee waterpasse toegerus. Ongelukkig het net die een op die foto hieronder behoue gebly. Wanneer Oelman die ander boere se koring gaan dors het, het hy 'n platformskaal (foto's onder) saamgeneem om dadelik die sakke koring te kon weeg. Die bedrag wat die boere vir sy diens moes betaal, is natuurlik bepaal deur die hoeveelheid koring wat hy moes dors. Waterpas en platformskaal in besit van die Henning Familiebond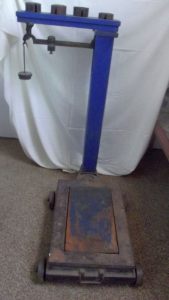 THRESHING OF WHEAT ON DAMFONTEIN
Olivier Johannes Henning *1869 was one of few farmers who had his own threshing machine. On the top photograph he stands in the foreground on the right with a suit and bow-tie.
The steam engine which drives the threshing machine was parked next to the homestead during periods when it was not used elsewhere on the farm to supply warm water to the household. Identical machine below, right. (Back to homestead)
On the photograph below left one can see Hopley's Kop and the farmyard, with some of the haystacks in the foreground.
The shreshing machine was fitted with two levels. Unfortunately only the one on the photograph below, was saved. When Oelman went to shress the wheat of other farmers, he took with him a platform-scale to weigh the bags of wheat. The amount payable by the farmer was determined by the weight of all the bags of wheat. Level and platform-scale in posswesion of the Henning family League