<- Terug/Back — Volgende/Next ->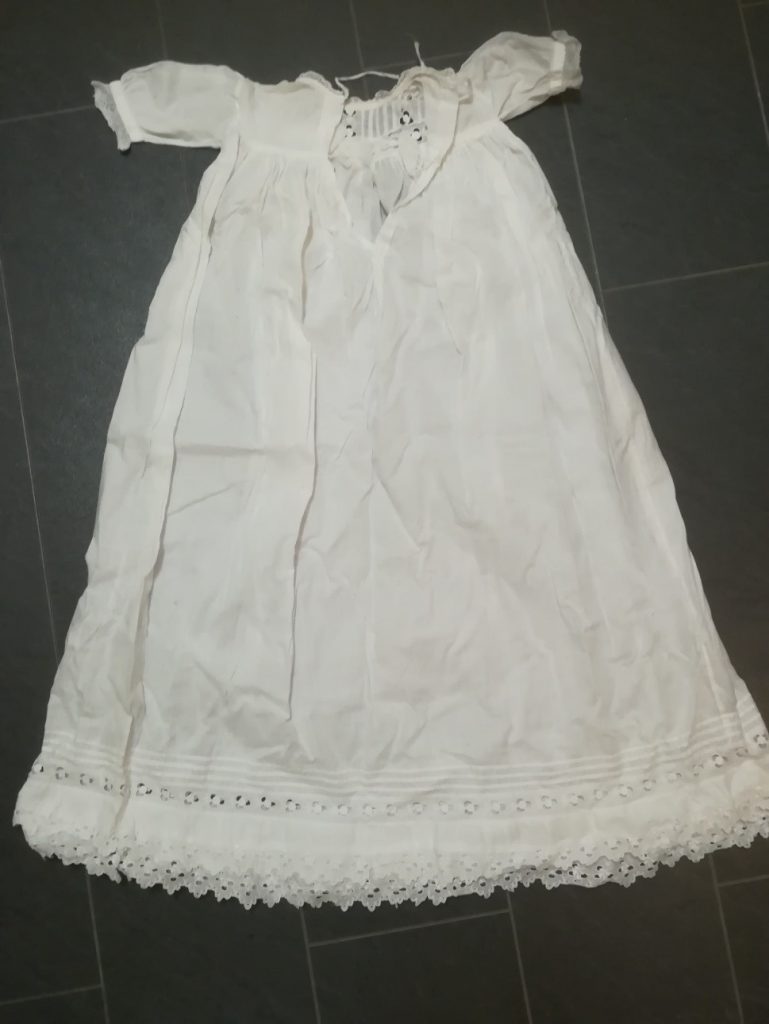 a2.b7.c8.d1. Martha Johanna Elizabeth Henning, gebore 26-8-1857, was een van die eerste baba's wat in die 1850 Damfontein opstal gebore is. Die kis waarin haar klere as 'n dogtertjies gebêre is word ook in hierdie familiemuseum vertoon. Sy is in 1877 getroud met die Hollandse onderwyser Herman Zurich. Hulle tweede kind, Wilhelmina Catharina Zurich, gebore 23-10-1880 is op haar beurt in 1905 in Oos-Londen getroud met James Fowels.
Wilhelmina Zurich se suster, Anna Elizabeth Zurich *1882 (getroud Baker) het 'n paar maande na Wilhelmina se troue 'n dooprok vir die Fowels egpaar gemaak — betyds vir die doop van hulle eerste kind, Lewis Basil Fowels, wat op 4 Maart 1906 gebore is. Die doopplegtigheid het drie dae later op 7 Maart 1906 in die kapel van St Saviour, Oos-Londen plaasgevind. Ouma Martha Zurich (gebore Henning) se jongste suster, Annie Isabella Fuller (gebore Henning) *1877 en haar man George Sydney Fuller was twee van die peetouers vir die nuwe baba.
Die dooprok is hierna in 1908 vir die doop van Iris, die tweede kind van die Fowels egpaar, gebruik en sy het die dooprok daarna met die doop van haar enigste seun, Ole Kristian gebruik.
Wilhelmina Fowels (gebore Zurich) is later met 'n Noorweegse skeepskaptein, Michael Olaus Landmark getroud en sy en haar twee kinders emigreer saam met haar nuwe man na Noorweë.
Toe Lewis Basil Fowels in 1938 in die huwelik tree met die Noorweegse meisie, Solveig Tusvik was hierdie dooprok ook tussen hulle trougeskenke. Hy en sy vrou het dus ook al drie hulle kinders [Bjarne Sigurd (1940), Ingebjørg Lindis (1942) and Ruth Søgni (1946)] in die rokkie gedoop. Al Bjarne, Ingebjørg en Ruth se kinders en alle kleinkinders is ook in hierdie rokkie gedoop – die laaste keer in 2016. Vyf opeenvolgende geslagte van die nasate van Martha Johanna Elizabeth Henning, gebore 26-8-1857 is dus in die dooprok gedoop.
a2.b7.c8.d1 Martha Johanna Elizabeth Henning, born 26-8-1857, was one of the first babies to be born in the 1850 Damfontein homestead. The trunk in which she kept her clothes as a girl is displayed in this virtual family museum. In 1877 she married the Dutch teacher Herman Zurich. Their second child, Wilhelmina Catharina Zurich born 23-10-1880 in 1905 married James Fowels in East London.
When it became clear that Wilhelmina was pregnant, her younger sister, Anna Elizabeth Zurich *1882 (married Baker) started making a christening robe for the new baby. When the new baby boy, Lewis Basil Fowels was born on March 6th 1906, the robe was ready for the christening which took place three days later in the chapel of St Saviour, East London. The youngest sister of grandmother Martha Zurich (born Henning) – Annie Isabella Fuller (born Henning) * 1877 and her husband George Sydney Fuller were two of the godparents for the new baby.
Here-after the christening robe was used in 1908 for the christening of Iris, the second child of the Fowels couple. She and her husband here-after christened their only son, Ole Kristian in the same robe.
Wilhelmina Fowels (born Zurich) later married the Norwegean skipper, Michael Olaus Landmark and she and her two children emigrated with her new husband to Norway.
When Lewis Basil Fowels got married in 1938 to the Norwegean girl, Solveig Tusvik, this christening robe was between their wedding presents. Al three their children [Bjarne Sigurd (1940), Ingebjørg (1942) and Ruth Søgni (1946) were, therefore, also christened in the robe, as well as all their grandchildren – the last time in 2016. Five successive generations of the descendants of Martha Johanna Elizabeth Henning, born 26-8-1857 were therefore christened in this chirstening robe.