<- Terug/Back — Volgende/Next ->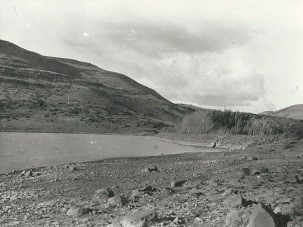 RAMPE BY DIE DAMFONTEIN DAM

Die Damfontein dam het bykans alle droogtes oor honderde jare oorleef. Op die boonste foto is die dam so leeg dat selfs die sluis al sigbaar is.

Na die vernietigende 1933 droogte kon die damwal nie die stortreën waarmee die droogte gebreek is, weerstaan nie en het gebreek. Hier staan 'n paar mans aan die damkant van die gebreekte wal
DISASTERS AT THE DAMFONTEIN DAM
The Damfontein dam withstood almost all droughts over hundreds of years. On the top photograph the dam is so empty that even the flood-gate is visible.

After the destructive 1933 drought the dam-wall could not withstand the heavy and sudden downpour and broke. On the bottom photograph a few men can be seen on the water-side where the dam-wall broke